WE'RE A 'SCHOOL OF BOOKS'!
We are DELIGHTED to announce our Y1-4 pupils won 3rd prize in the National World Book Day Award Competition 2017!  The prize won was £1000 worth of Walkers books for the school libraries.  In addition, the pupils were given a signed copy of A Child of Books by Oliver Jeffers and a framed limited edition print from the children's book for the classroom.
This year, the creative challenge was set by picture book giant, Oliver Jeffers and acclaimed fine artist, Sam Winston.  Pupils were asked to create their own 'world of stories' display inspired by their new children's book, A Child of Books, published by Walker Books, who have funded the Award for 2017.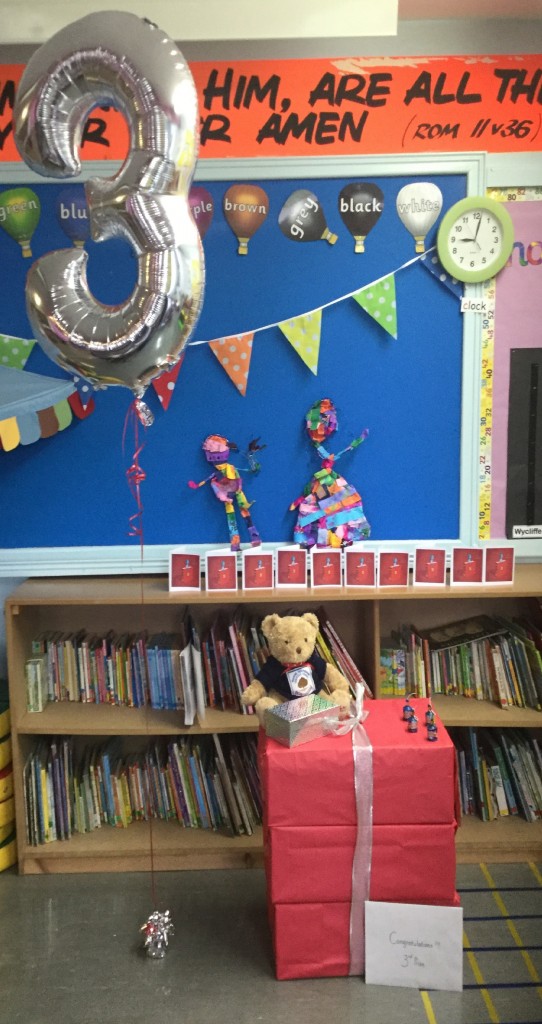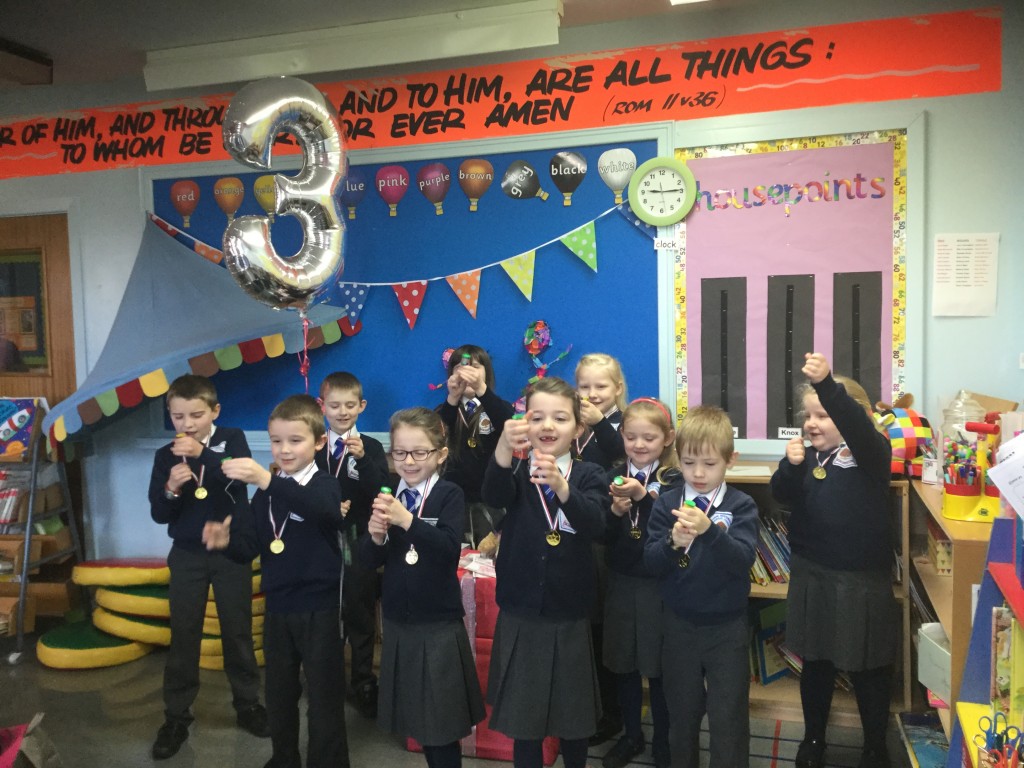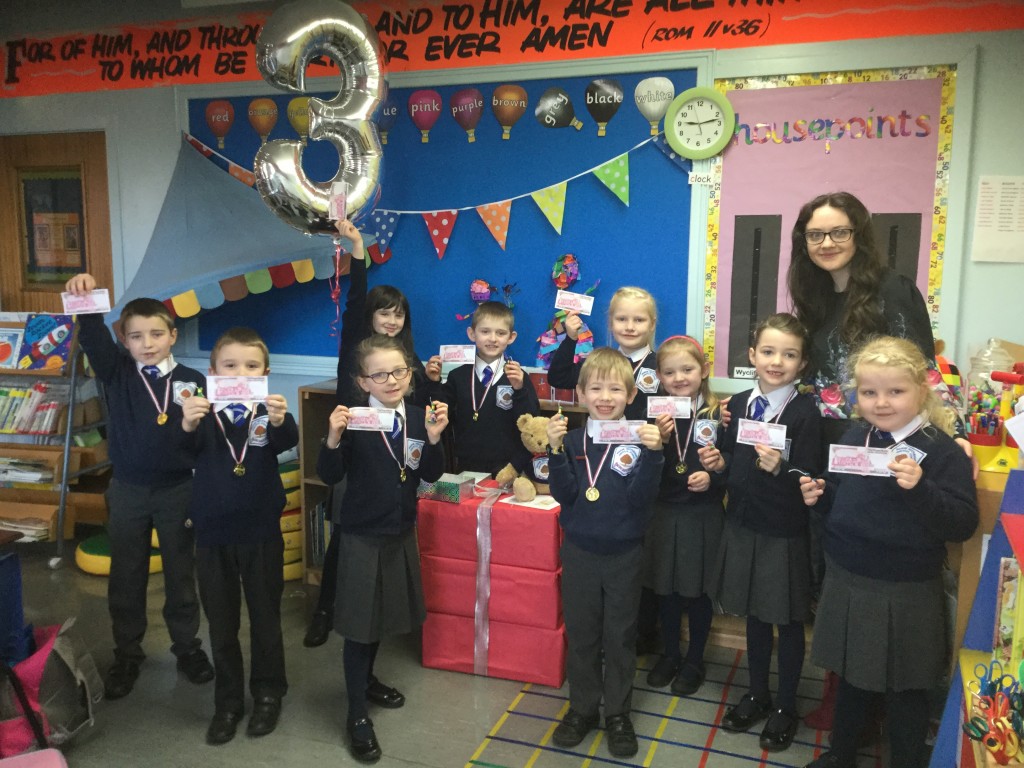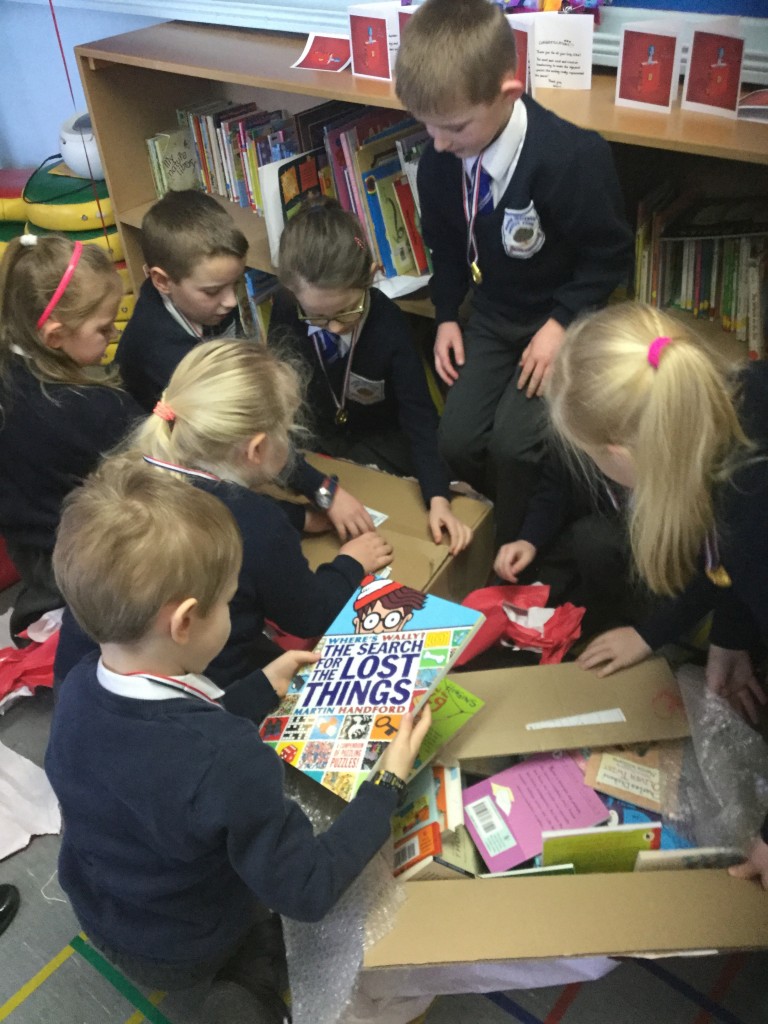 OUR WINNING ENTRY!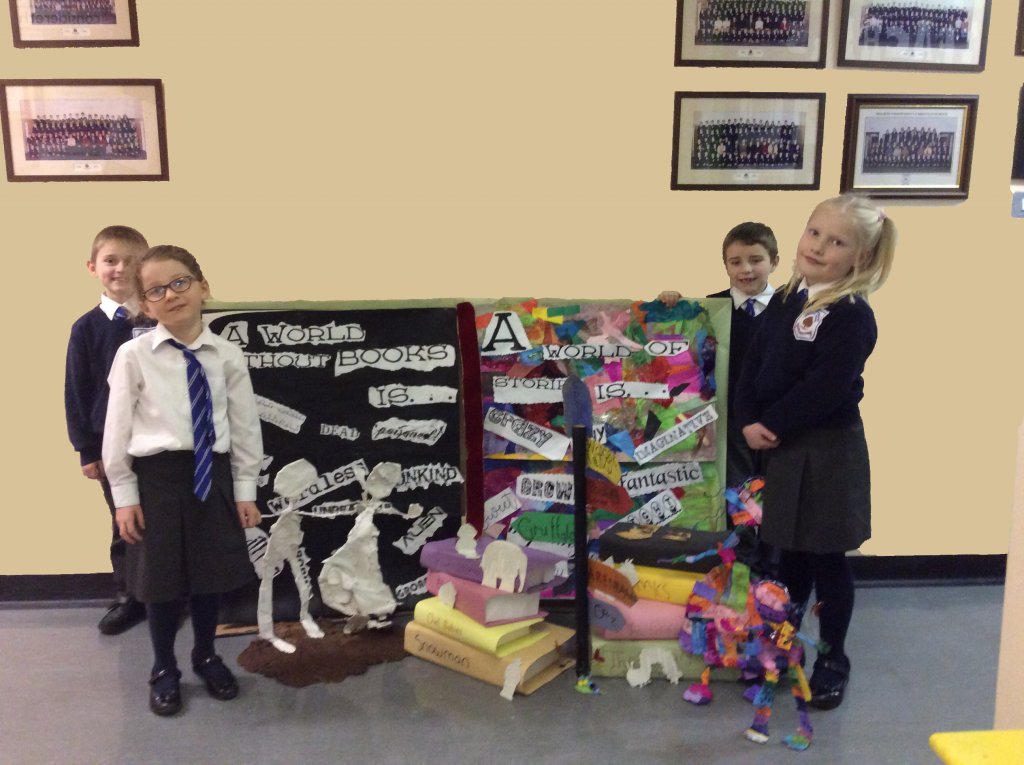 Initially, our composite class of ten evaluated the spread from A Child of Books.  Then, we had a 'thought shower' re. our favourite childhood books and described our reading experience with adjectives.  One child wondered what the world would be like without stories, so we also brainstormed negative adjectives on a 'world without stories' – like 'poisoned', 'sadly silent', etc.  This became the foundation for our display – the contrast between a world without books and a world with books.  To incorporate the school's ideas, we did an initial display in the corridor, asking everyone to write or draw inspiration for our display.  We decided to display our final product in the corridor as "it's about everybody reading".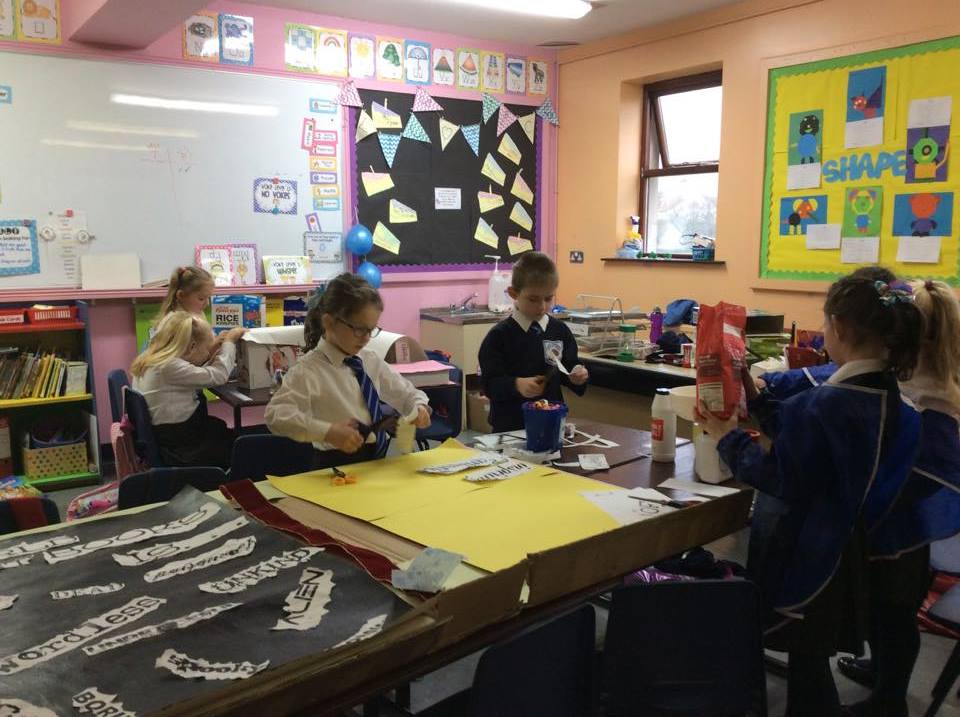 For the background, we constructed a giant book with contrasting sides – a flat, painted black side full of negative adjectives and a quirky, colourful, multimedia side describing 'reading'.  We used different fonts online to format the words in a visually striking way.  The 'finishing touch' was a giant, velvet bookmarker.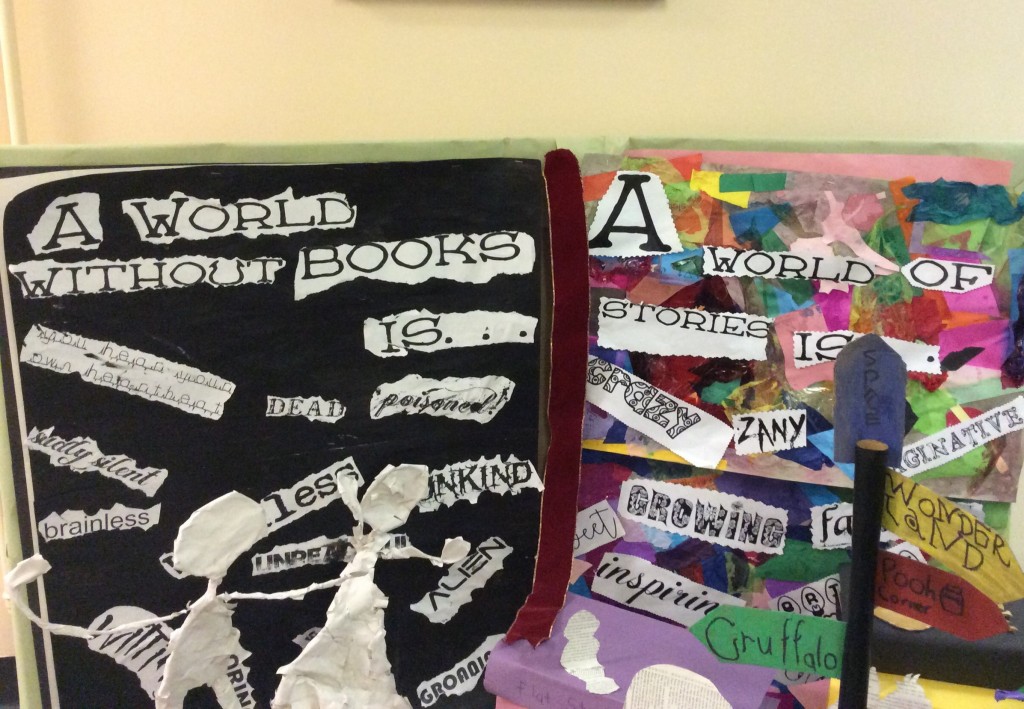 Some thought a 'world without stories' would be "blank, so people would be blank – no ideas or words".  Therefore, they moulded a boy and girl out of wire and papier machéd them in white.  Additionally, they felt it would be 'muddy' like a battlefield, so some followed online instructions to make mud playdough from flour, cocoa, oil, water and salt.  It was a favourite activity as it was "so mucky and gooey"!
Contrastingly, after the boy and girl had a 'reading experience' they were colourful and full of words.  Therefore, we printed words on to colourful card and used strips to papier maché them.  One little girl felt the models should even have colourful hair, using blue wire and twirling it to make zany hair.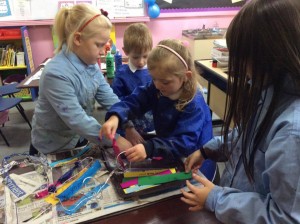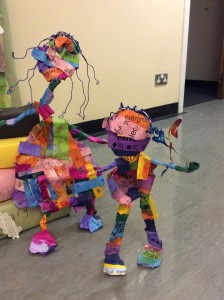 The children felt reading is a journey through different worlds, meeting characters, so they made steps of books.  They imagined the blank girl and boy journeyed into the big book and then came down transformed!  The small books were made from cereal boxes covered in different papers; the main characters cut from recycled book pages.  To emphasise the diversity of story-worlds, pupils constructed a signpost from a tube from wrapping paper and cardboard.  They googled different fonts to represent the worlds on their signpost and copied them onto their signs.  'Space' points upwards, symbolising "space is all up there, beyond". At the bottom, pupils made flowers from fantasy film to show something has grown – 'it's not just muddy anymore'; even the little boy holds some flowers.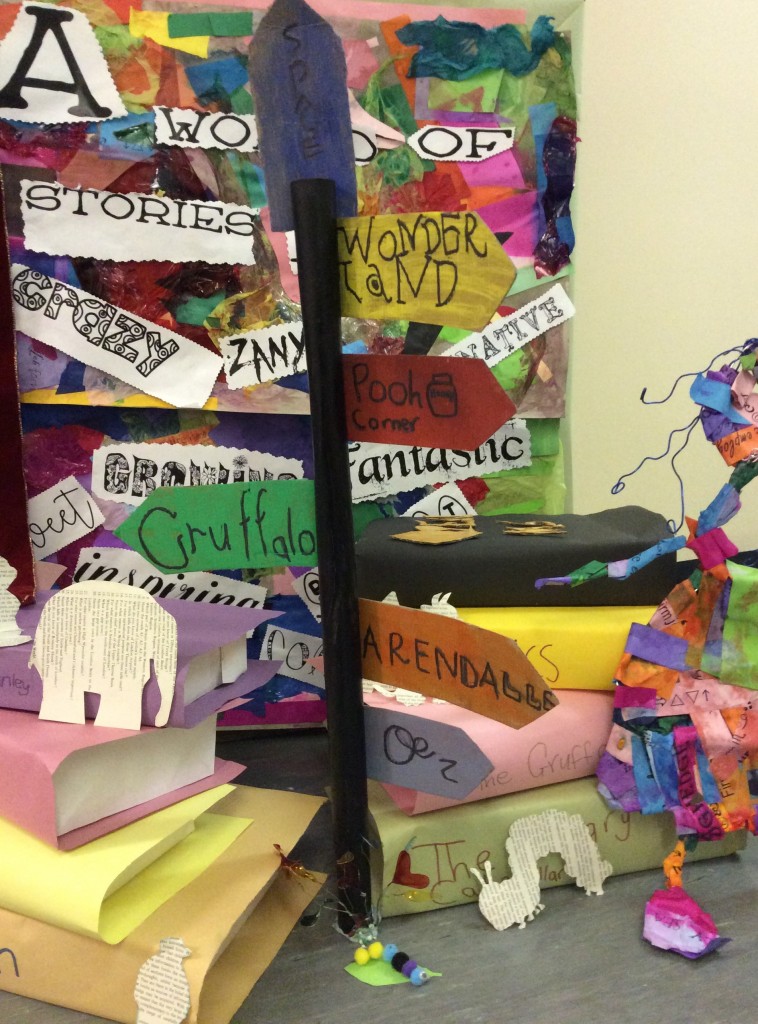 Finally, we made a unique book with gold-painted 'Open me' message on top; hidden inside, with a 'dream bottle of ideas', is an iPad with our interactive quiz about your 'reading experience', i.e. the number of books read per month, favourite characters, etc.  It enables everyone to reflect about being a 'child of books' and collects data for a 'big reveal' on World Book Day about our school's reading habits.
Ultimately, it is our special display – one boy asked, "Can it stay forever?"
THANK YOU TO WBD & WALKER BOOKS!
We would like to thank the World Book Day organisers and Walker Books for the opportunity and the fantastic prize!  Also, a BIG THANK YOU to everyone – pupils and staff – at MICS who contributed to our entry with their creative ideas and expertise!  It was much appreciated!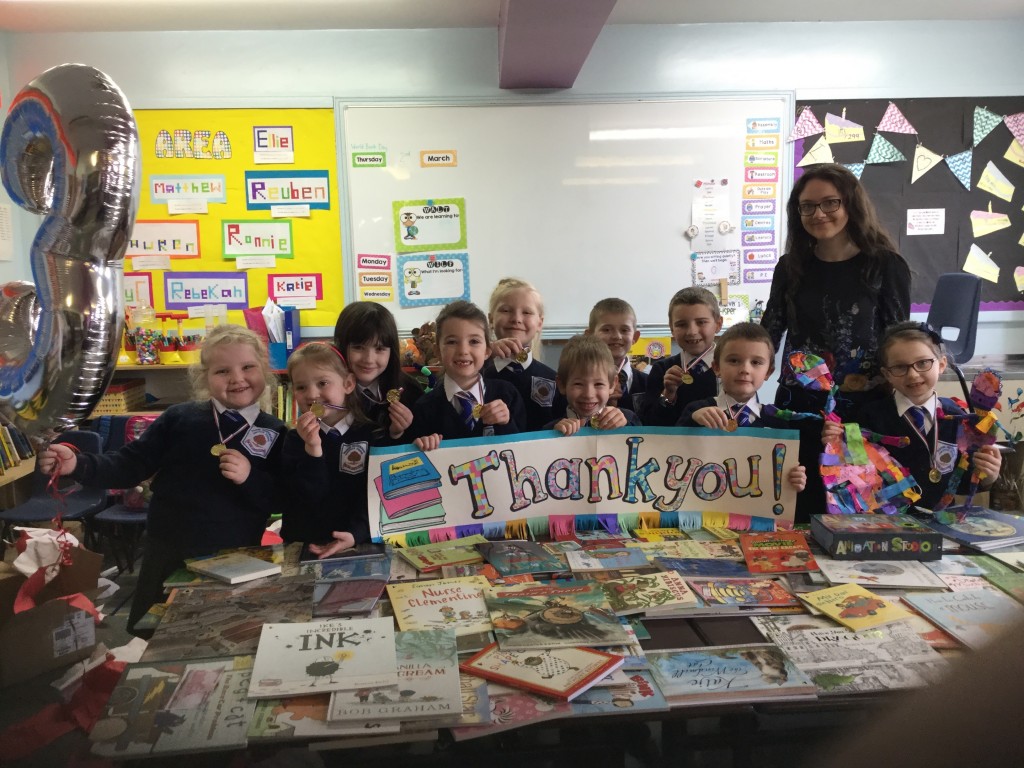 HAPPY WORLD BOOK DAY!